It's Cybersecurity Awareness Month!
Your favorite time of year!
Fall is upon us and, with it, October brings Cybersecurity Awareness Month. We continue to integrate technology into every facet of our lives and with that, we need to be ever more vigilant in not just our cyber awareness but also of the rest of our family, friends, work, and environment in general. Below are some tips for beginning and maintaining a successful cybersecurity plan for everything around you:
1) Passwords, Passwords, Passwords!
This is probably one of the easiest measures everyone can control but sadly few do appropriately. Strong passwords are a huge hassle—everyone knows it—and with so many platforms, apps, and systems requiring a password for access, it can be hard to manage them all. I recommend a password manager. There are a lot of them out there and it depends on which device you have, but a couple I recommend are LastPass, Dashlane, and HidePass. Also, utilizing Multi-Factor or Biometrics functions on your devices adds another layer of defense.
2) Not Everyone's A Friend!
Learn to spot suspicious emails; even emails that have legitimate-looking logos and letterheads can be fake. Check the sender's email address, look for typos and poor grammar, or any message claiming a sense of urgency.
3) Keep Private Info Private!
Don't reveal personal information such as your date of birth, social security number, passport number, etc. Even those games you play on social media outlets could give away key information you may use for passwords. Even little things that we do not think could be used against us leave clues for adversaries to utilize to gain more information.
4) Update Yo Software!
Yes, updating applications and platforms is sometimes maddening, but developers are continuously providing security updates to their applications and backing in new security features, so it is important to apply those changes to your environment.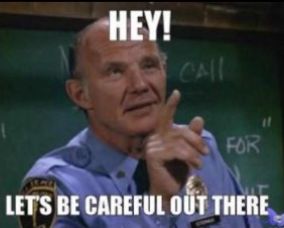 5) Back that stuff up!
It is easier these days to take a million pictures, use online billing, save digital medical information, taxes, and a ton of other information that you may need one day. Keeping it all on your active systems is a bad idea with ransomware still one of the favored cyber threats. Back your data up and pull it off your system. Portable storage is super cheap and having a warm copy readily available and a cold copy stored in a fire/waterproof lockbox is a great plan.
6) Spread the Good Word!
Sit your family down and explain the importance of at least a minimal attempt at cybersecurity and, as much as we don't want to be that person, explaining it to your extended family and friends when you see them doing something unsecure is just as important as you doing it. Their security risks have impacts on your security as well!