Meet the Team: Mary Anne Harasim
Mary Anne Harasim, Director of Extended Enterprise, Augusta, GA Office
IntelliGenesis is made up of a tight-knit team of the best in the business. Our experts are skilled, intelligent, devoted to the mission…and always ready for a little fun. In our Meet the Team blog series, we're proud to introduce you to our people!
---
What's your story? How did you get to IG?
I'm originally from Ohio, and growing up I thought I was going to be a 3rd grade teacher. My father worked in defense contracting, and when we moved to D.C., instead of working at the Gap for my summer job, I was given the opportunity to intern at Northrop Grumman and that started it all and I am forever grateful. From starting in filing to learning pricing to contracts to business management to a dabble in international business, I worked my way up and through the organization. I first met Angie after taking a position with Camber, another government contractor.
It took Angie took two and half years to bring me over to IntelliGenesis. At first, I wasn't sure what I would be doing at IG. I took over the company's social media arm and helped build new business. In 2016, Angie asked me if I'd like to go to Georgia for IG for six months, and I'm still here and loving the community and the IG Georgia Team.
What's your role at IG today?
My role today is expansive, working to grow new business while managing employees and volunteering time to the community. I arrived in Georgia to three employees in September 2016. Now we're up to 19. We have a full-time senior recruiter keeping the pipeline really robust. Historically we have worked primarily with one customer, but now are looking at expanding our customer set to the Army, the Department of Energy, U.S. Cyber Command, and others. IntelliGenesis is fortunate to have many large and small friends down here to partner with – creating a compliment of capabilities to capture new work.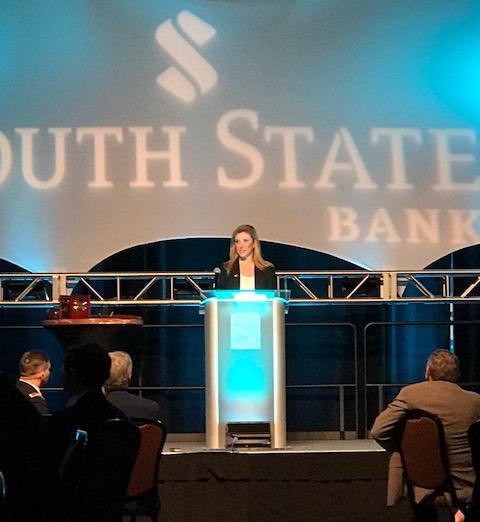 Tell us about the innovation and growth of cyber in Augusta, GA.
For years, Augusta has been a city that's been "almost there" as a major hub of opportunity. Now that Army Cyber Command is moving here, the opportunities are finally panning out and creating a cyber energy of promise. Cyber is the new warfare domain, and the major military commands connected to it are moving to this city. IntelliGenesis has been on the cutting edge, with a presence here since 2011.
Our governor has invested $200 million to create a cyber innovations center in downtown Augusta. This is going to be the hub of all things cyber security, with the Georgia Bureau of Investigation, DHS, and NSA playing a role aligned with industry, academic, and government partnerships. U.S. News and World Report, Fortune, and Wired Magazine are all calling Augusta the next Silicon Valley and if you're here, you can really feel it. I believe that this will be the new "it" place in the next ten years for new college graduates to migrate towards.
In connection with the Innovations Center, Augusta University recently founded the Cyber Institute, the first four-year program of its kind, and graduating its first class this year. It's framed as an "institute" so that anyone from any program or school can come into the institute to put a minor in or graduate with a major and minor from another school. Cyber has been a big focus for Augusta for quite some time and the Besides Augusta conference each fall has brought some of the legends of coding and cyber to the heart of Augusta.
What's your leadership style or philosophy?
I've brought the family-oriented culture of IntelliGenesis' HQ down here. Everyone has a voice and we enjoy spending time together. As a leader it is important to me that I know not only my employee but their families as well. As a team we are incredibly mission focused and we still have fun.
My philosophy is that we are a team and we all roll up our sleeves and get to work. We're equals, we're in this together, and we're all trying to move forward to better the mission and support our customers and families.
I'm concerned with where my employees want to be and how to help them get there, even if that's ultimately outside of IntelliGenesis. We have quarterly reviews of all our employees to keep that open communication and adjust as needed. I promote the ability for everyone to feel like they're part of a team. It's not a hierarchical construct and no idea is pushed aside.
How are you seeing IG's commercial capabilities expand in your network?
Being on the brink of such major growth and innovation, the new commercial aspect of IG plays a key role, especially for the rest of this year. We're hiring now to bring this talent in. We're focusing on the commercial capabilities through IG and are rolling them out later in the year while Maryland is rolling them out now. We're doing all the legwork to set up these relationships with commercial partners and customers.
What do you seeing happening in the next few years in the Georgia scene?
I can see the Georgia office growing close to the size of our Maryland office. There are so many opportunities that we want to be a part of. It's related to collaboration, to expanding into many different customer sets, both federal and commercial. We are becoming a known entity in the Augusta region and people want to be part of our team.
The Augusta community is committed to Cyber and what this means to the changing landscape. I sit on boards to help bring new businesses, ideas, and recreational options to the Augusta area. The restaurants and unique boutiques are amazing and I think this area, whether you move here with a family or are single, has so much to offer those who want to be part of the Cyber revolution.
When you're not making things happen at IG, what are you doing?
I'm an avid runner. I've completed five marathons. I love spending time with my family and friends and exploring different parts of Georgia or traveling to new places.
What similarities are there between marathon training and leading IG Georgia?
You can have some tough days. But there are the rewarding days when you hit your stride and see all the positive progress you've made. In 2016 Angie and I ran a marathon together. That's like running a team. We're in it together. It's a cool feeling.
You've got 30 seconds to pitch IG to a potential hire… go!
You will have fun. Our benefits are above and beyond our competitors. You'll never work for a more generous company. IG really helps you achieve your goals, either in this industry or outside of it. We focus on paying it forward, especially to transitioning veterans, doing everything we can to support and help employees grow. We care about helping you move forward, and if we can't move you forward we'll help you get somewhere that will. Georgia is very community oriented, and at IG, we're like family. We like to hang out and do things together, in and out of work. Boom.
Ok, now it's time for some fun. Tell us some things about yourself that not everyone knows.
Best snow day movie (do you have snow days in GA?!) Snow Days in Georgia are few and far between. Sweet Home Alabama
What do you put in your coffee? Milk
Who's a personal hero of yours? My mom
If you could see anyone in concert, who would you see? Sugarland
Do you neatly roll up your toothpaste tube or just squeeze it out from the middle? Squeeze it from the middle
Best place to eat in Augusta (casual + fancy). Casual = Bodega Ultima Fancy = Oliviana's
What book is on your nightstand right now? Barbara Bush: A Memoir
Top 3 favorite smells. Spearmint gum, Vanilla, Clean clothes
Beatles or Stones? Beatles
If you weren't at your position in IG, what would you be doing? Doing something where I could help make the world a little bit better.
What brand of running shoes do you wear? New Balance