Embedded Voice Services
Written By: An IntelliGenesis AI Specialist 2017 flew by! Happy New Year from the Tech Leads! We have seen many things take off this past year and talked about some pretty cool tech topics, IoT (Internet of Things), Data Visualization, Scaling Cloud Platforms and the Evolution of Cyber just to name a few. This year we hope to bring you even more insight into tech trends and happenings. To kick off this year, let's touch on something you are probably already a little familiar with, but that we believe will take off even more so over the next 1-2 years. That is embedded voice services, such as Google Assistant, Amazon's Alexa, Microsoft's Cortana and Apple's SIRI. We all have some experience with each of these, but the topic here is not the use of, but rather the expansion of their use across new platforms.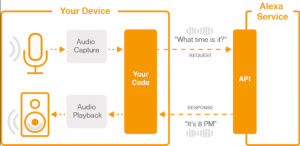 SIRI was first introduced in 2011 (holy cow really), but its implementation is still limited to Apple IOS supported devices. Google Assistant brings a similar service to Android devices regardless of manufacturer. Microsoft's implementation of voice services has been, well, Microsoft-ish at best. And that brings us to Amazon Alexa, probably the shining star in the market right now. There is a kiosk of nick knacks and tech toys in virtually every mall it seems, hocking Amazon devices with Alexa enabled on them. The real story behind Alexa, though, is a little deeper. In March of 2017, Amazon released the API information to Alexa so that developers could start working on embedding Alexa into other platforms. This platform is called the Alexa Voice Service (AVS). What happens when you say "Alexa…", your command/request is captured, bundled and sent to the Amazon AVS, it is translated and is executed by sending the information back to your device (playing a song, confirming an Amazon order, adding an appointment to your calendar etc.). In August, an update to the AVS was release that allowed anyone to embed the service into pretty much any platform.
What Amazon really, really wants is Alexa in everything from your refrigerator, to your car, your apps, and your house. And they do not care what device delivers it because Alexa means the potential for an Amazon sale through their service. What does this mean for us consumers and technical analysts and developers? The potential for IoT devices to be communicating in some form or fashion will not be limited to just C2C (Computer to Computer) telematics, but rather interpersonal communications via voice or text in a secure manner from network connected devices throughout our life. You may be in your car and the manufacturer has enabled Alexa inside that would rival OnStar. You could order pizza from your refrigerator and have it transfer funds between accounts so that you could use PayPal to make the payment. The implementations are limitless. Check out this link for an example Amazon Echo (Alexa) on a Raspberry Pi Zero. The Raspberry Pi Zero is $5, with a few more accessories (power cable, small speaker and microphone) you could build your own in a matter of a few hours.