NeuralNexus Unleashes NVIDIA Technology
Harnessing the Sparks of Innovation
The data landscape is rapidly evolving, and businesses are constantly seeking innovative solutions to harness the power of their data. Enter NeuralNexus, an AI-driven platform that unleashes NVIDIA technology to create "smart pipelines" that can transform data from virtually any domain into actionable insights, all while being user-friendly with low-code/no-code capabilities. Its intuitive design, seamless collaboration features, and real-time inference are just the tip of the iceberg.
NeuralNexus is designed with adaptability and customization in mind, offering a wide range of use cases across industries such as finance, healthcare, public sector, and transportation. Its multi-user platform fosters seamless collaboration, empowering teams to work together effectively. The platform excels at handling both static and real-time data, with active prediction pipelines, real-time data management capabilities, and NVIDIA Triton Inference servers ensuring that users have access to the most up-to-date information and can make data-driven decisions faster.
NeuralNexus's primary selling point is its ease of use, thanks to its low-code/no-code approach, making it accessible to users with varying technical backgrounds. Additionally, NeuralNexus allows for custom dashboards tailored to specific organizational requirements, providing them with the most relevant insights and data visualizations for their unique needs.
NeuralNexus has the ability to harness the power of NVIDIA's cutting-edge technology, including the DGX A-100 system and Triton Inference servers, as well as CPUs, allowing for highly optimized AI/ML utilization. This adaptability enables organizations to process large datasets and run complex models with ease.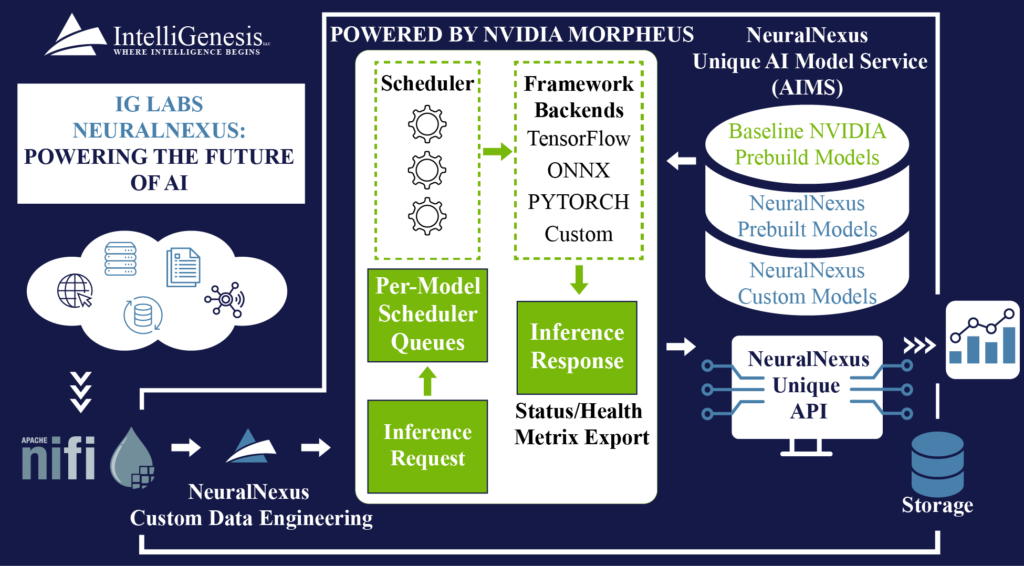 By combining innovative features, adaptive capabilities, and powerful performance, NeuralNexus emerges as an indispensable tool for organizations across various industries. Recently showcased at NVIDIA's GTC Conference as Predictive and Observable Environment (POE), it highlights the platform's potential to transform the way businesses and organizations handle and analyze their data. NeuralNexus, with the ability to harness the power of NVIDIA technology, offers user-friendly customization, real-time inference, and tailored dashboards, making it the AI center of excellence for nearly any domain's data. Embrace the future of data management with NeuralNexus and stay ahead of the curve.